Kathy's Romance Corner
|
home
Shadow Play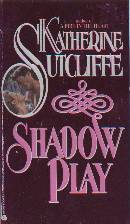 Back Cover:
SHADOW HERO
A god to the Indians of the Amazon, a lusty adventurer whose courage was renowned, Morgan Kane was in truth a rogue and a charlatan - a handsome deceiver whose legend was mere illusion.
SHADOW PAST
Leaving the glitter of London behind, Sarah St. James sought justice in a lush and savage wilderness - surrendering her destiny to Kane - a virile opportunist who secretly planned to use and then abandon her.
SHADOW PLAY
Bound by ties of vengeance, together they braved the merciless heart of darkness - only to be swept up in a raging tide of danger...and a passionate ecstasy beyond dreams!