Kathy's Romance Corner
|
home
sealed with a kiss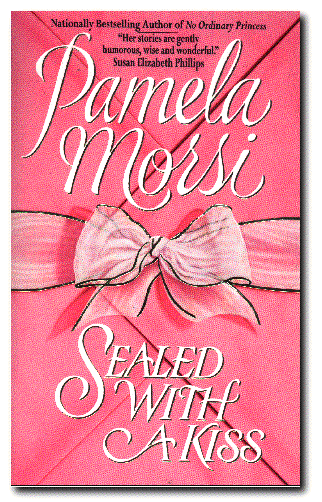 Back cover: From the first moment she met her new Texas neighbor, Prudence Belmont was in love. When she was old enough for marriage Gidry Chavis promptly presented her with an engagement ring, and all her dreams seemed to have come true. But the hell raising Gidry disappeared before the wedding, leaving only a brief note in explanation.
My dear Miss Prudence,
I have determined that it is best that we do not
wed. Please forgive me and recall me with fondness.
Now Chavistown's notorious favorite son is back, wiser, remorseful, sun browned and manly. Everyone in town has accepted his transformation to a hardworking town leader-- all except Pru. After all, only a man with wicked thoughts could believe that she, the president of the Ladies' Rose and Garden Society, would mail out racy postcards, and only a cad would demand bribes of kisses to keep quiet. If he thinks he can win her love again, he's wrong. Or is he?