Kathy's Romance Corner
|
home
Desire and Surrender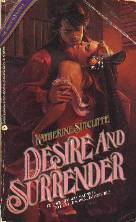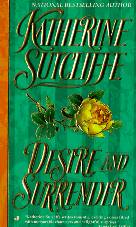 Back cover: The fire in Alejandro de Bastitas' eyes spoke of sinful passions, and his sardonic smile gave an unmistakeable message of danger. Yet Angelique DuHon was helpless in his arms. As the warmth of his strong body enveloped her, she responded ardently to stirrings she had never known - only to learn he was betrothed to another.
Alex too had been seduced by a desire he could not resist. He had returned to his ancestral home in Texas and agreed to an arranged marriage. Now, he could think only of the beautiful and forbidden Angelique - a woman who would despise him if she knew the dark secrets of his past.
But as the flames of war and Comanche terror swept the Texas plains, it was Alex's daring rescue that saved Angelique's life...a life they were destined to share. For passions too long denied had become a blazing inferno that could only be quelled by total surrender to love.