Kathy's Romance Corner
|
home
Renegade Love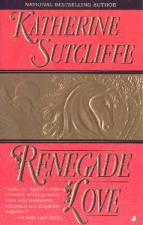 Back Cover: Fugitive hearts...
On a wagon train from Louisiana to Texas, Rachel meets a stranger. She is unnerved -- and fascinated -- by the intensity of his sapphire gaze. Over the course of hot, sun-baked days and cool, starlit nights, embers of desire flare into forbidden passion. Forbidden because Rachel is the sheltered daughter of New Orleans aristocracy -- and because her "stranger" is the infamous outlaw "Kid" Davis, now a captive facing a death sentence.
But the princess and the prisoner have more in common than meets the eye. And even as Rachel becomes his hostage in a daring escape to Mexico, she yearns to uncover the mystery that haunts him, the secret that keeps his soul in a prison all its own...