Kathy's Romance Corner
|
home
A Heart Possessed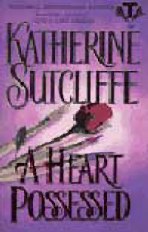 Back Cover: THE BROODING ARTIST
It was whispered that Lord Nicholas Wyndham murdered his wife, that he was hopelessly insane, that he fell into uncontrollable rages. In seclusion in his great estate, Nick had shut himself from the world, painting and trying to remember his past. An accident had robbed him of his memories, and among those lost was the face of the woman he loved...
THE BEAUTIFUL MODEL
For two years Ariel Rushdon had been locked up in Royal Oaks sanatorium, committed by her cruel guardian and abandoned by her lover, Nicholas Wyndham. Finally securing her release, she plotted her revenge against the lord who had taken her innocence and condemned her to a living nightmare.
THE SECRET PASSION
But from the moment she met Nick again, Ariel could see the torment in his eyes. Now she learned the secrets of his house. Now she knew the truth about his wife's death. And now she would make Nick remember everything - their wild passion, their sacred vows...their child...